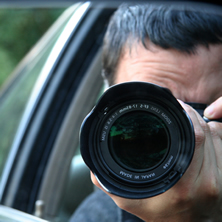 Still & Video Surveillance
Documenting the activities of an individual, place or thing. Criminal, Civil, Personal, Worker's Comp., Fraudulent Insurance Claims, Unfaithful Spouse.

Locate & Skip Trace
Witness locate, missing person, locate relatives, debt skipper, locate old friend or lost love.

Background & Criminal History Check
Criminal/Civil/Personal reasons, employment, business, marriage, dating, baby-sitter, trouble with the neighbor.

Witness Interview, Statements & Pre-Trial Preparation
Criminal Defense, Civil Suits, Auto Accident, small claims .

Process Service
Having difficulty serving papers on someone. Subpoena, summons, restraining order served & video taped.

Undercover Investigations
Employee misconduct, personal, civil, criminal.

Child Custody/Divorce
Let us help you prove that you're a better parent, discover assets. Are the kids in a safe healthy environment? Investigative techniques & usage of surveillance to gather winning information.

Cheating Spouse Investigation
Discover who is secretly meeting with your loved one. Surveillance, video tape & still photography, background information. To download a copy of our "cheating spouse" document click here!